The dynamic of the building sites. Building in Rome and the Lazio (4th - 1st century BC)
La dynamique du chantier. Construire à Rome et dans le Latium du IVe siècle av. J.-C. au Ier siècle ap. J.-C.
The construction sector is key to the ancient economic system, though it has as of yet garnered little interest among historians. This research endeavours to give it back its due place by studying the progressive definition of this economic and social sector between the fourth century BC and the Augustean period. The scale in use is that of the building site, defined as the set of construction processes, that is, as a dynamic reality involving many and varied actors. We will thus show joint evolutions at the helm of the building site. Roman and Italian magistrates as well as private owners increasingly delegate the realisation, but also the direction, of the works : one the one hand, to architects, who, from the second century onwards, are in charge of most of the work on site ; on the other hand, to entrepreneurs, a socio-economic group including construction professionals recognised for their skills, together with financial investors who thus multiply their capital. Furthermore, the growing complexity of building sites and of the relations between actors leads to the implementation of a legal system of construction, which are still under development at the end of our period. As for the building workers, who are of little interest to written sources, they appear to be a heterogeneous group due to status, age, and sex, as well as abilities. A significant portion even seems to switch sectors depending on need and season. The construction sector is therefore characterised by its great fluidity as it evolves along with society, but is also intrinsically linked to other sectors of Republican and Augustean Rome.
Le bâtiment est un secteur-clé de l'économie antique, mais qui n'a jusqu'alors que peu intéressé les historiens. Ce travail de recherche s'efforce de lui rendre sa place en étudiant la définition progressive de ce secteur économique et social entre le IVe siècle av. J.-C. et la période augustéenne. L'échelle adoptée est celle du chantier, entendu comme l'ensemble des processus de construction, par conséquent comme une réalité dynamique à laquelle participent des acteurs tout aussi nombreux que divers. Nous montrerons ainsi des évolutions conjointes à la tête du chantier : la maîtrise d'ouvrage délègue de plus en plus la réalisation mais aussi la direction des travaux, publics comme privés, d'une part à des architectes, qui assurent à partir du IIe siècle av. J.-C. l'essentiel de la maîtrise d'œuvre des gros chantiers, d'autre part à des entrepreneurs, groupe socio-économique où se trouvent à la fois des professionnels de la construction reconnus pour leurs compétences et des investisseurs financiers qui font ainsi fructifier leur capital. La complexité croissante des chantiers et des relations entre acteurs implique par ailleurs la mise en place d'un droit de la construction encore en cours de définition à la fin de notre période. Quant aux ouvriers qui réalisent les travaux, auxquels les sources écrites ne s'intéressent qu'à la marge, ils apparaissent comme un groupe hétérogène à la fois par leurs statuts, âges et sexes et par leurs compétences. Une part importante d'entre eux semble même passer d'un secteur à l'autre en fonction des besoins et des saisons. Le bâtiment est donc un secteur caractérisé par une grande fluidité, évoluant en même temps que la société, mais également intrinsèquement lié à d'autres secteurs de la Rome républicaine et augustéenne.
Fichier principal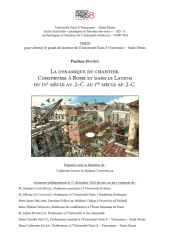 Ducret_these_LD.pdf (19.94 Mo)
Télécharger le fichier
Origin : Files produced by the author(s)